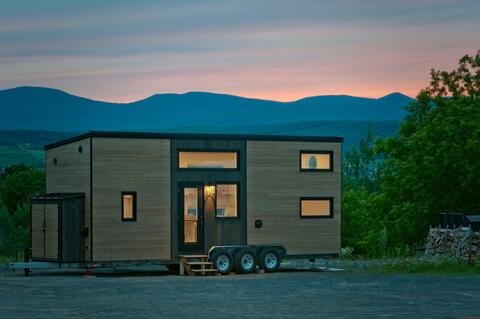 Investing in mobile real estate
In real estate, a fundamental notion prevails: over time, the building's price tends to decrease while that of the land tends to increase. However, this well-established rule has a notable exception: tiny houses on wheels. If you are considering investing in this booming market, it is essential to understand the factors that will have a favorable impact on the resale value of your precious tiny home.
Factors that increase resale value
Quality of materials
The quality of materials used in the construction of your tiny home is a crucial factor. High-quality materials not only increase the durability of your home but can also enhance its resale value. Informed investors look for sturdy constructions that require less long-term maintenance. 
Manufacturer's warranties
Warranties offered by the manufacturer also play a significant role. When these warranties are transferable to new owners, they reassure potential buyers and strengthen the resale value of your tiny home.
Certifications
Choose a manufacturer that offers internationally recognized certifications for design quality. This not only ensures the quality of your tiny home but also facilitates finding land that accepts the standards of these certifications, which can increase its resale value. These certifications are also very useful, even essential for financing and insurance.
Brand strength and manufacturer's reputation
The brand and reputation of the manufacturer play a key role in the resale value. A tiny home built by a reputable company is generally more appealing to potential buyers, potentially resulting in a better selling price.
Categorization and nomenclature
Avoid dwellings with a homemade or utility trailer license plate, as they are often difficult or even impossible to finance or insure. A tiny house on wheels should be approved and labeled as a recreational vehicle, ensuring compliance with current road safety standards.
Almost limitless resale market
One of the main advantages of a certified tiny house on wheels is undoubtedly the size of the resale market. Indeed, your investment is protected from a market downturn in your area, as you can reach potential buyers across North America.
Model versatility
The more versatile and capable of meeting a wide range of needs the chosen model is, the more likely it is to attract a broad pool of potential customers. Custom-built constructions designed for specific needs only can be more challenging to sell due to specific choices motivated by very precise needs.
Reasons to invest in tiny houses on wheels
The market for tiny houses on wheels is experiencing exponential growth in North America. More and more people are interested in living in a tiny home for various reasons. Here's why investing in these mobile homes can be compelling:
Mobility
Tiny houses on wheels can be moved anywhere. This mobility is a major asset, as it allows selling the unit in markets where real estate prices are higher, unlike the traditional real estate market.
Multiple uses
Tiny houses offer exceptional versatility. They can serve as recreational residences, affordable housing, accommodation for workers, and much more. This diversity of uses significantly expands the pool of potential clients.
Dedicated resale platforms
There are now many specialized websites for the resale of tiny houses, such as Tiny Homes in Canada and Tiny House Listings in the United States, which facilitate the sale of your property if you decide to resell it. We strongly recommend approximately 5 years of use before reselling your tiny home; the larger the price gap with a new model, the higher the chances of a quick resale.
Conclusion
By investing in a tiny house on wheels, you can benefit from a rapidly growing market, unparalleled mobility, and a variety of uses. Moreover, by considering the factors influencing the resale value, you can maximize your return on investment. Our clients have experienced this positive trend, and although the market for used tiny homes is still young, we are amazed at how these small dwellings retain or even increase in value over time. Investing in a tiny house on wheels can be a wise decision for your financial future.