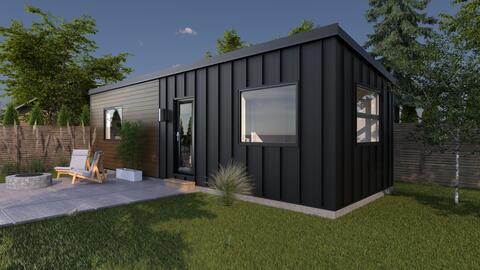 Our first tiny houses on foundation are here
From our first years in operation, we've had the chance to work with wonderful clients located across North America, allowing us to develop our expertise and better understand the needs expressed in this booming market.
An important milestone
In 2015, we jumped in this adventure with the goal of fulfilling a need that is even more relevant today, an alternative housing solution adapted to an increasingly difficult market. Over the last eight years, we have specialized in the design and manufacturing of tiny houses on wheels, aiming to become an industry benchmark in terms of sustainability and space optimization. With our current positioning in this market, we are proud to say that we've achieved a lot on this matter. From our first years in operation, we've had the chance to work with wonderful clients located across North America, allowing us to develop our expertise and better understand the needs expressed in this booming market. A question that we have been asked many times is undoubtedly whether we can or plan to offer tiny houses without wheels. Even if this was in our objectives from the very beginning, until now it represented a challenge due to the production logistics at our facility in Quebec. However, with the increase in our production capacity and the refit of the workshop, we are now able to offer a series of models without wheels, which can be installed on screw piles or on a foundation!
A complementary product
Indeed, we are both proud and very excited to present you our first backyard houses, better known legislatively as accessory dwelling units (ADU). Those perfectly complement our existing line of products, which includes 8ft wide models in the travel trailer category and 10ft wide models classified as park models. All our models were certified as recreational vehicles, offering mobility and versatility. With the addition of tiny houses on foundations, we are taking a crucial step towards a more permanent housing solution, compliant with the national. building code through a CSA A277 certification (Manufactured homes). We understand that everyone's needs are different and we want to ensure that the tiny house lifestyle can be accessible to more people, which is why we are entering this market with a series of 12ft wide models, varying from 16 to 42 feet in length, depending on needs. As with our mobile models, financing will be available across Canada. Here are some examples of these units, intended mainly to add living space to an existing property.
ADUs, a real solution to real problems
Accessory dwelling units are a housing solution with a multi-factorial impact on the economy. Not only do they constitute an innovative housing solution adapted to different realities, but they also offer owners with available space on their land the possibility of generating additional income by renting these backyard units. With urban sprawl and the housing crisis hitting simultaneously (lack of affordable housing, no land available in the city, etc.), the concept of accessory dwellings is timely and goes beyond access to property. They can serve as a springboard for first-time buyers or be used to accommodate grandparents in a non-invasive, bi-generational manner. In a context where the lack of housing affects even the college and university network, accessory dwelling units installed on surrounding properties or on campus could help solve part of the problem. There is no doubt that the versatility of this type of housing opens the doors to a wide range of possibilities. A simple solution to sometimes complex problems. By allowing homeowners to maximize the use of their land, ADUs can alleviate the housing shortage and provide a way for people to stay in their community without excessive urban expansion as seen in the Greater Toronto Area for example.
A different logistics
For units intended to be installed on a foundation, it is important to note that the logistics are different than delivering a tiny house considered a recreational vehicle. Depending on the final location of the tiny house, you may need to use specialized machinery, such as a crane, to properly locate the home, whether on a foundation (crawl space) or screw piles/helical piers. In addition, this type of model may require a building permit from the city; these steps must be taken into account as early as possible in your project, as certain delays are to be expected. You will certainly have to respect minimum margins and respect dimensions depending on your municipality or province. In terms of utilities, it will also be necessary to provide preparatory work for the installation of the accessory dwelling unit; connection to sewers/septic tank, running water and electricity.
A glimpse of the future
The launch of tiny houses on foundations marks a significant step forward for Minimaliste. We firmly believe that this innovative type of housing can be part of the solution to the housing crisis in Canada and the United States, while generating additional income for owners and contributing to a more sustainable future by slowing down urban sprawl. Together, we can help shape the future of alternative housing in Canada, one unit at a time. Tiny homes will play a vital role in transforming the real estate market of the future; our vision being to democratize this type of housing throughout North America, ADUs will be at the heart of our evolution in the coming years.