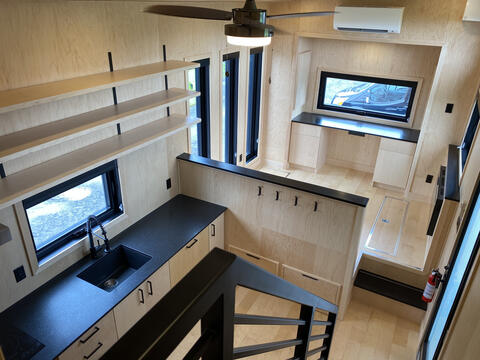 Custom project, what does it mean?
When choosing one of our models, you can still pick the type/color of materials used for the flooring, exterior siding, cabinets, etc. Even though we have a wide range of standardized floor plans, you might want to:
A: Provide your own concept/floor plan and have Minimaliste adapting/building it OR co-create your own model with our team from a blank page: full custom project.
B: Modify one of our existing floor plans: modification packages
A.  Full custom project (Design fee: $10,000.00)
Even if we offer the custom design service, we only create projects within the boundaries of our style and core values. I.E., we won't do a gable roof house with a rustic look as it does not reflect the company's guidelines. Also, we work with the materials we know have the best applications for our tiny houses, this is mandatory in order for us to provide warranty and certification on all of our products, whether it's a standard model or a custom project. Note that custom projects are only possible in the semi-permanent category, unless they are based on the same dimensions as the Nomad model.
The different steps:
1.  Reception of the RFQ (Request for quote)
2.  Confirming time frame/details based on production schedule (+two weeks)
3.  Providing ballpark estimate + Google meet (+two weeks)
4.  Providing official quote for booking agreement (+two weeks)
5.  Signature of the quote/booking agreement + $5,000$ deposit
6.  Signature of the sales agreement with updated price (6 months prior to construction)
7.  Downpayment (40% if cash purchase and applicable payments if financing is used)
The $10,000.00 fee is charged based on the time and effort involved in creating a custom tiny house on wheels with the level of attention to detail we bring into our products, from roughing to finish, no exception. It also comes with a thorough inspection process and proper quality control. Each detail will automatically affect another element of the design when working in such a small environment. Small architecture is the thoughtful making of space; a new design is a project that will require a true collaboration between the clients and our team in order to make it work. Custom projects may unfortunately involve unexpected events such as: delays in specific materials deliveries, postponed delivery date, pricing adjustments if modifications are made during the design process, etc. That being said, you're in for a unique experience!