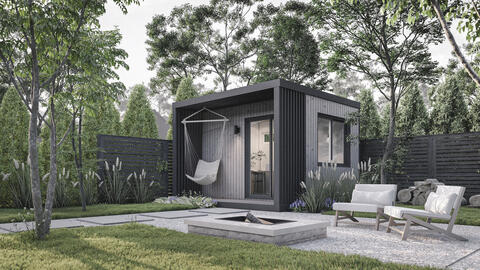 8'x12'
|10'x16'coming soon|
The Mini³ (minicube) is what we call an accessory dwelling unit (ADU). There are no wheels on this model, unlike the rest of the Minimaliste line of products. The main concept is to add extra living space to your existing property, but it can also serve for short term rental projects. Our first 8'x12' model (11'x13' with exterior porch) can be used as a home office / professional office, yoga/art studio, gym, guestroom, etc. In most circumstances, you don't need a building permit to install this type of dwelling, it falls under the same regulation as a shed. That being said, you need to confirm with your local municipality bylaws for the maximum allowed size for sheds or accessory dwelling units without a permit. The Mini³ comes standard with high end finishes, Mini-split heating/cooling, aluminum door/windows and a 50A electrical panel.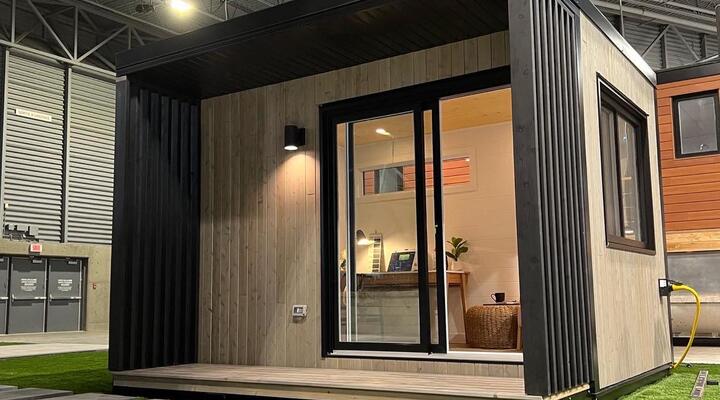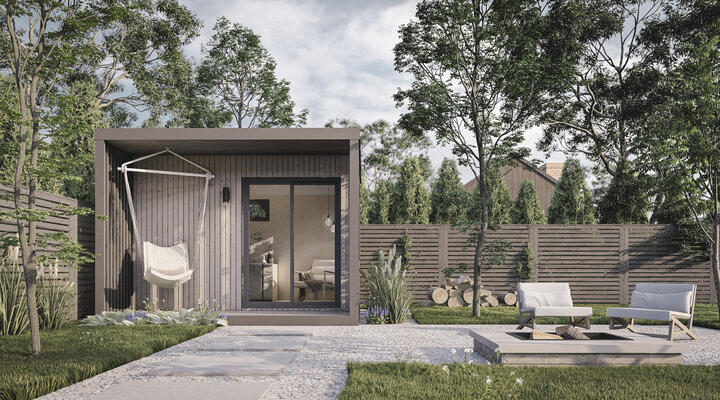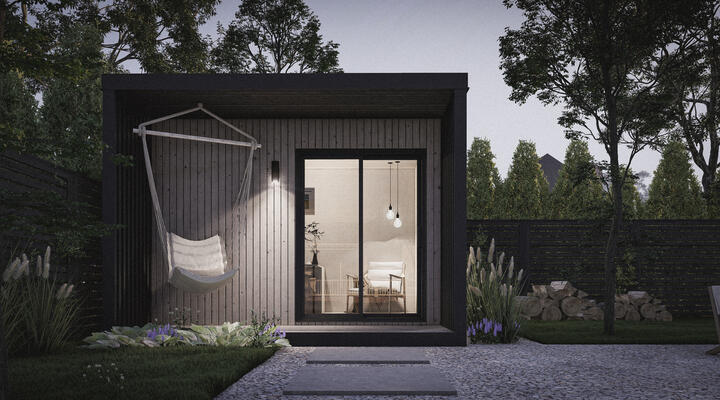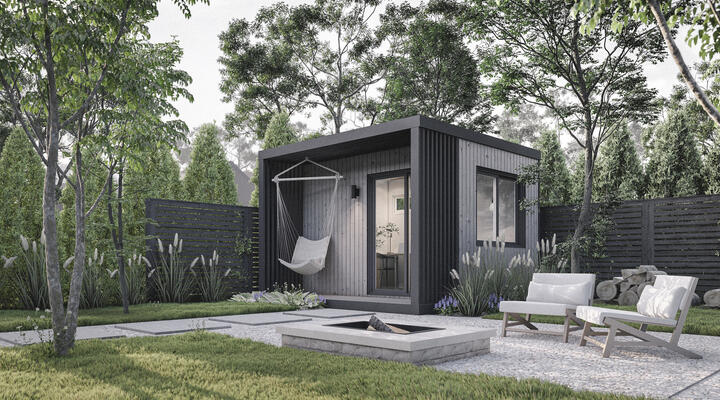 Exterior
The exterior of the Mini³ is as simple as it can be. With such a small footprint and a cubic shape, we had no choice but to go with a slick and homogeneous design so that it can blend well in anyone's backyard. The suggested siding is cedar, offered in three different tones (light gray, dark brown or natural wood) or you can also include steel siding, again in three different colors (black, white, charcoal gray). We are also offering a covered porch option to give a more dynamic look to the unit, allowing for a hammock chair by the entrance. The roof seems to be flat, but there is a low-slope towards the back and the roofing material is an EPDM membrane. The exterior trims are 26G steel and the door/windows are aluminum, all black color. 
Interior 
Considering the Mini³ is a multipurpose dwelling, the interior is mostly an open space. Depending on what you will use it for, you can rearrange the space according to your needs. The big sliding door and side window will bring a lot of natural light in this small space, making it more airy. You can have the floor plan of the Mini³ mirrored so that it can orient it in your backyard in a way that makes the most sense for your setup. The interior siding is white painted engineered hardwood, ceiling is stained tongue & groove pine and the flooring is high quality SPC flooring (Stone polymer composite). You can pick three color schemes for the interior accents; gray, dark brown or natural wood.